Happy Accident Today is the 12th year wedding anniversary of the Big Guy and myself. I've been thinking a lot lately about the way we met and came to be engaged. It's really a sweet story and when I recount it, it makes me warm and fuzzy inside. But knowing how dangerously close this all could have gone a completely different direction, it reminds me of how a Happy Accident changed the course of my entire life.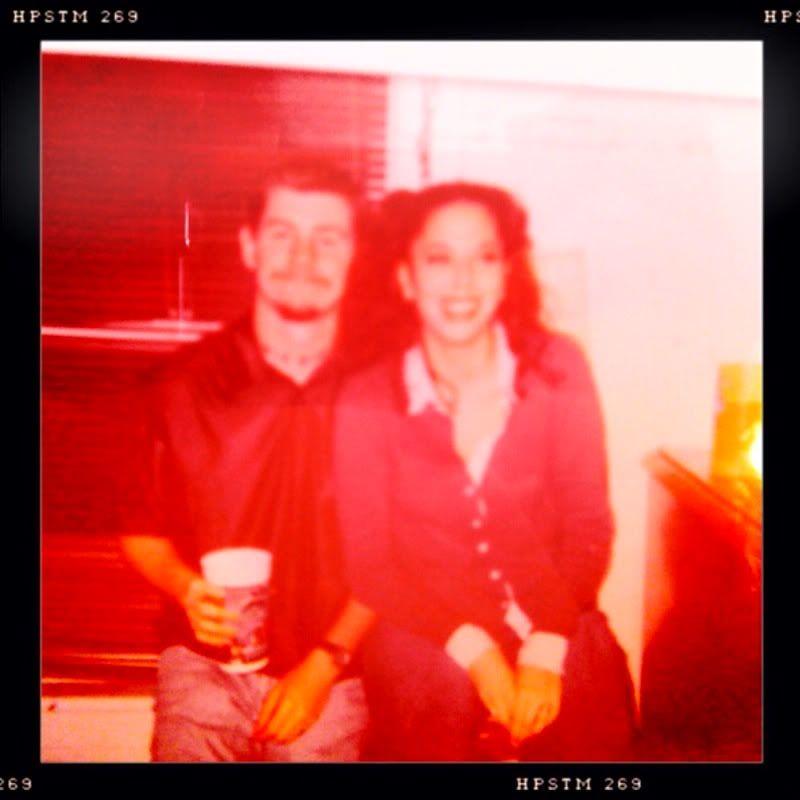 The Big Guy and I had a mutual girl friend in college who really wanted us to meet, as friends I mean REALLY wanted us to meet.  She hounded me for weeks. After several failed attempts to meet one another, finally we were in the same place at the same time. I remember ditching my LSAT class that Monday night in September just to finally make his acquaintance. I walked into that bar alongside our mutual friend never knowing how this night would alter my perception of the world. I was expecting this guy to be the best thing since sliced bread. I mean after all, it was my friend's best friend and she had nothing but good things to say about him. Instead of a knight in shining armor I found someone unexpected. My friend and I  walked up to the bar and as I'm looking for the typical college frat boy, she stops short in front of this long, lanky, bleached blonde hair with BLUE tips, an eyebrow ring and smoking a cigarette boy.WTF?? I thought to myself,well, at least she's not trying to set us up. To me, he looked like someone that I might have dated in high school when I was going through my "alternative" phase but no one I would date as a grown woman. She introduced us. I was cordial. I said, "Hi,I'm Debi" he nonchalantly cast his eyes downwards toward me and said "hey" barely acknowledging my existence.I immediately did not like him. I could barely stand him. Who did he think he was?Seriously?
As the night progressed, we ended up back at the house he shared with several other guys and they were having a party. Needless to say, the girl who introduced us and begged me to accompany her to the party, promptly disappeared, leaving me alone once again with this guy who , at first glance, seemed quite rude and disinterested in even having a functional conversation.
I had an astronomy exam that I desperately needed to study for and all I wanted to do was go home.But, being me, I had absolutely NO idea of how to get home.Finally,after hours of me sitting there waiting for my friend to reemerge, he offered to walk me home. Which, at first, I found the idea ridiculous but out of necessity I agreed. I was completely at his mercy. I was praying that the walk was quick and that he was not a serial killer. It started off as a walk, then he took me to the roof of the parking garage to point out constellations and we began to talk.Really talk. Then we continued walking, I learned later that he took the longest possible way home. I remember being at the soccer fields, lying on our backs looking up at the stars at that moment as night meets dawn and the birds start to sing and you are so deliriously tired but the excitement of the newness propels you forward. In those few hours, we shared our entire life with one another. After a stolen kiss and butterflies, he finally walked me home…and we've been together ever since.
Today, as we celebrate our 12th Anniversary of marriage, I look at him and thank God for happy accidents. I am also reminded that love can find you anytime, anywhere and to never judge a person by a first impression.Life is made up of second chances and good things can only happen if we're open and willing to experience all of the happy accidents that life has to offer. I love you baby! Thank you for walking me home that night so long ago.